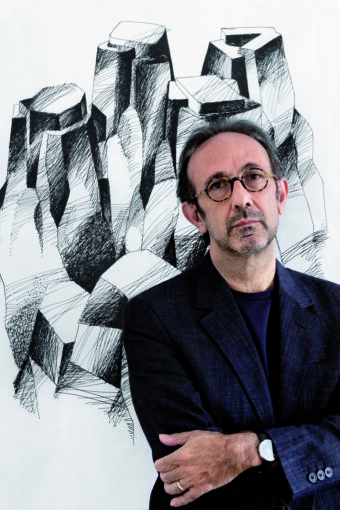 Designer and architect, he believes in the project as a tool to spread poetry in the world of
things. Director of the Domus Academy Master in Design from 1990 to 1993, he was part
of the Olivetti Design Studio, designing cash dispenser and personal computers. In 1999
he founded FRAGILE, a corporate identity studio that he led together with Frida Doveil,
designing brands and communication systems for Banca Intesa, Cariparma, Coop Italia,
Fiera Milano, Gebana, Olivetti, Poltrona Frau, Poste Italiane.
He designs products for Alessi, Alias, Artemide, Caimi, Deborah Milano, De Castelli,
Hansa, Numa, Pasabahçe, Salvatore Ferragamo, Serafino Zani.
In 2016 he won the Compasso d'Oro with the Ossidiana coffee maker for Alessi. In 2019
he held his two solo exhibitions of drawings: "Mario Trimarchi: un romantique radical" at
the Italian Cultural Institute in Paris, and "La cerca de la frontera entre l'útil i l'inútil" at the
Design Hub in Barcelona.
He constantly continues his sculptural research on objects, creating Oggetti Smarriti,
Strawberry Fields Forever and Close to the Edge, self-produced under the MT Artworks
brand.
In 2022 he was invited by Korean Craft and Design Foundation to design five little Altars in
Yugi Brass at the Fondazione Giangiacomo Feltrinelli in Milan. In the same year, he was
awarded the Targa d'Oro by the UID, Unione Italiana Disegno.
Former Professor of Corporate Identity at the Faculty of Architecture in Genoa, he
currently teaches Brand Design at Naba, Product Design at Abadir and Design Thinking at
Iulm.
He draws day and night.
COMPASSO D'ORO ADI
XXIV award – Ossidiana coffee maker, Alessi, 2016
Honorable Mention – Communication and Interior Design System, Coop Italia, 2015
Honorable Mention – Il Tempo della Festa timbals, Alessi, 2013
Selection – Corporate Identity System, Banca Intesa, 2004
Selection – Corporate Identity System, Poste Italiane, 2001
Selection – Packaging for electronics products, Olivetti, 2001
GOOD DESIGN AWARD
Swan faucet, Alessi by Hansa, 2017
Super & Popular packaging and graphic design, Alessi, 2014
La Stanza dello Scirocco trays, Alessi, 2010
Iodo spotlight, Artemide, 2009
Bioetyc skin care packaging, Deborah Milano, 2007
INTERNATIONAL DESIGN AWARD – SILVER
Ossidiana coffee maker, Alessi, 2014
RED DOT DESIGN AWARD
Ossidiana coffee maker, Alessi, 2015
Visual Alphabeths, Alias, 2008
"Architettura & Società" exhibition graphics, La Biennale di Venezia, 2008

DESIGN PLUS AWARD
Il Tempo della Festa timbals, Alessi, 2013
PRIZE FOR ADVERTISING COMMUNICATION
Targa d'oro
My Home cd-rom, bTicino, 2005
UNIONE ITALIANA DISEGNO
Targa d'oro
43rd edition of the International Conference of Representation Disciplines Teachers event