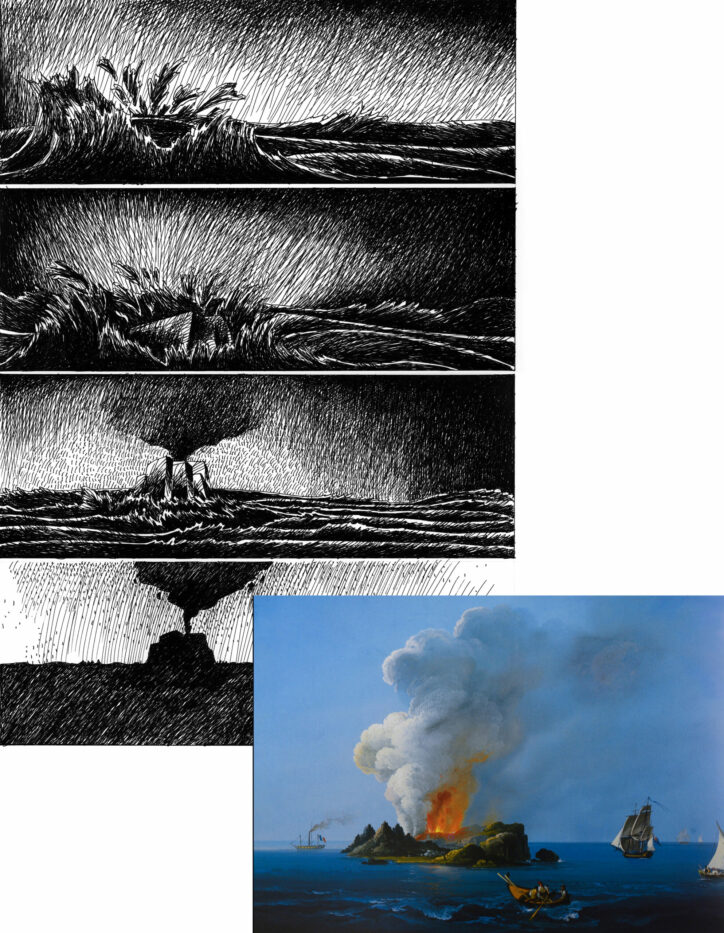 @ Ferdinandea island in a painting by Camillo De Vito
The strait of Sicily, July 2, 1831
In the silence of an ordinay night,
at sea halfway between Sciacca and Pantelleria,
as if by prior accord, all possible clouds gathered
at a specific point.
Like a weighty killer whale seeking oxygen,
on that night the peak of an underwater volcano
suddenly surfaced, creating a fantastic island.
A mythical place shaped by incandescent magma,
a strategic sentinel between Sicily and Africa.
And the men did not wait, attracted by the puffs
of smoke and the death of fishes in the waters all
around. Soon the story of the island that wasn't
there reached all the ports of the Mediterranean.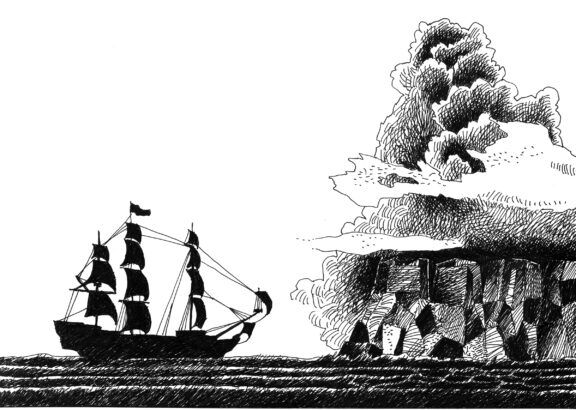 The English where the first to place a proud standard at its summit
and they gave the name of "Graham" to that unexpected piece
of emerged land.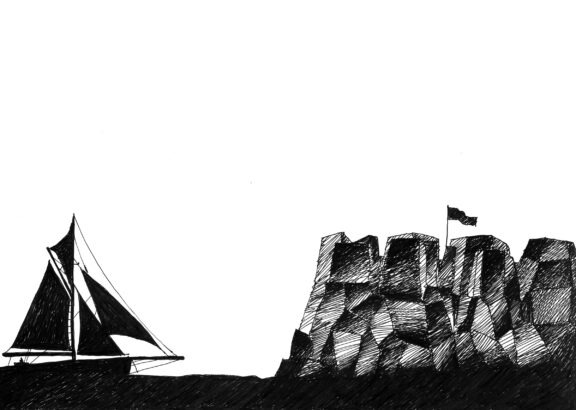 One month later the French, with their geologists and
painters and expert naturalists, raised their own flag there,
naming the island "Julia".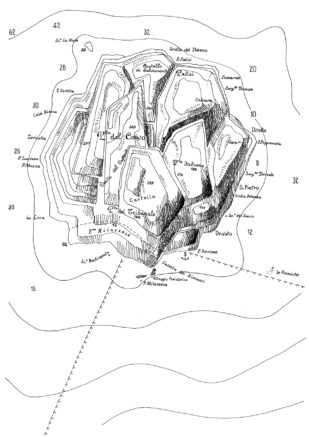 Ferdinand I, King of the two Sicilies,
who perhaps had more right than others to do
so, had a third flag raised on the island, and
called it "Ferdinandea" in his own honor.
The island, tired of all the disputes that had been
ignited in spite of its good faith, or perhaps
simply due to the weight of all those flags,
decided it would be best to sink back into the sea.
Since then men have wondered where it went,
and what might be the form of that sunken peak.
a natural architecture in the middle of nowhere
After his disappearance, a new legend was added to those seas,
on a temporary island that seemed beautiful, with a shape halfway
between the nature of the volcano and the architecture dreamed
of by men. From that moment the stories of the sailors were
enriched with hazy and fantastic inventions, on the possible shape
of that so abstruse rock.
After a long time, we like to think of Ferdinandea Island as an
enchanted place, where time crystallizes on form, knowing that
tomorrow may not come. Thus, a poignant memory remains,
a mirage of natural architecture in the distant middle of nowhere.