Design and maths are not gifts of the gods.
We invented them to explain the absoluteness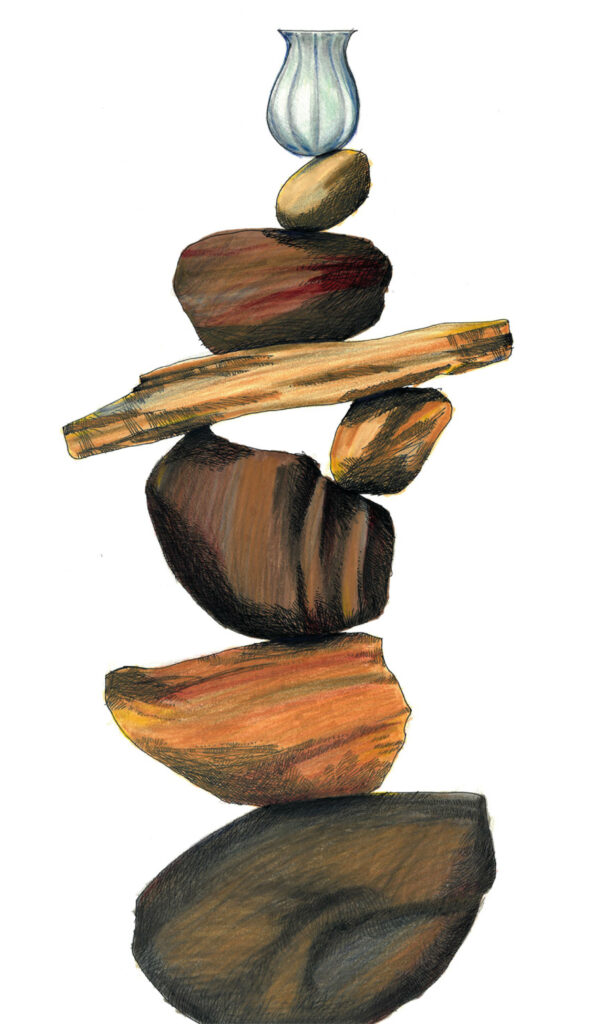 I think it helps if we designers of things engage with the vision of those who try and bring order to the chaos of the numbers. There is a human need to think about maths, combining functionality (how to resolve business issues), with religion (seeking harmony and explaining it to others).
Design also finds itself constantly combining religion and function.
INVENTING PROBLEMS
Maths resolves single problems such as paying taxes, measuring the time left before the world ends and explaining nature with a compass and ruler. Axioms are the rules of this constantly evolving game; it was easier to understand Pythagoras's theorem than describe a simple fern leaf on the telephone before the origin of fractal geometry.
Design resolves single problems: cutting tree branches and preserving fire, as well as praying to the gids and driving demons away. Sometimes, just like Euclidean geometry, design uses axiomatic rules – to define the colors of hi-tech products, ergonomics standards and eco-sustainability criteria.
"Form follows function" is an example of an axiom with huge ideologic consequences. Good mathematicians will invent a new problem rather than simply make calculations, and it is often more important for designers to pinpoint the most relevant research topics than design the form that resolves a given function.
Maths problems are constantly evolving: from the amazement at irrational numbers to Cantor's different levels of infinity, maths tries to draw close to the boundaries of the ultimate mystery.
Design also focuses on constantly evolving problems and, from developing the bow and the arrow, we have progressed to designing interfaces, services and smart cities. Languages and methods evolve to resolve ever more complex issues.
THE QUEST FOR BEAUTY
One design ambition is to design icons with meanings that will outlive the present and describe an aspiration towards absolute beauty.
Some numbers and functions can be called iconic: pi, zero divided by zero, Googolplex and the Riemann zeta function. These entities mark the evolution of thought towards absolute elegance: There is a general belief that there is a difference between designing a flower vase and a city, accepting the difference in scale as a foundation of the discipline. In Mathematics, however, studying the mystery of zero has equal
status with the determination of inconceivable sizes such as Graham's Number.
The absence of a disciplinary scale is visible in a certain design approach that is very close to our hearts: designing houses as things and things as houses makes us realize that the aim is always to penetrate the soul of the inanimate.
Essential to further our quest for beauty, mathematics and design look beyond what is happening in the present without preconception, and their current balance between order and chaos asks us.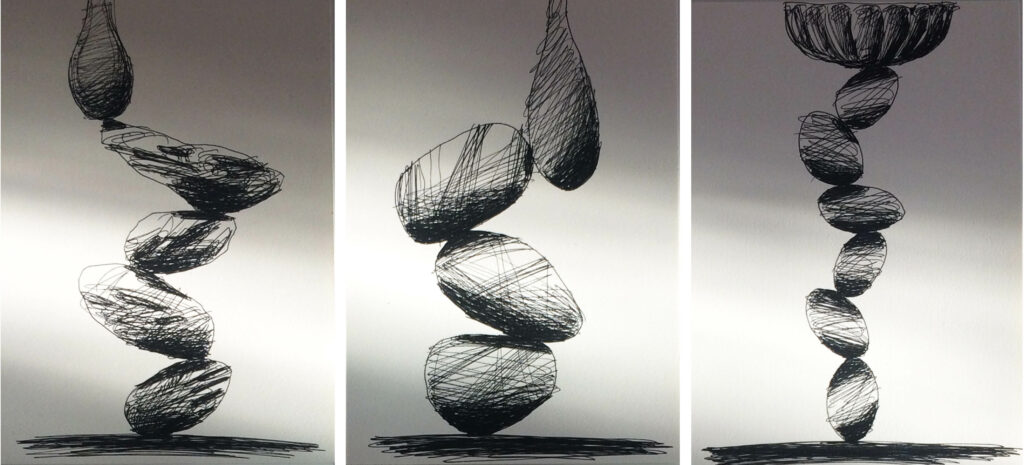 STARTING FROM ZERO
The origin of zero is manifested as the absence of a stone on the sand of calculation: the void is a fundamental archetype for the designer: The hollow in our hand, which generated the ergonomics of utensils, is a surprising, formal opportunity. The designer who believes in the void believes firmly that hammers have always been as they are today. Perhaps we should start from zero again in our houses, placing a lovely asymmetric ikebana composition in our tokonoma as if it were the zero at the center of maths. Starting from a symbolic object would, at last, enable us to construct a house all around it. Zero is essential in positional calculations, in which1equals1if it is in the place of units but becomes a million or a billion when followed by the right number of nothing. Let us too, try to arrange objects in a positional feng shui. They would speak to each other at last and a supernormal ashtray might have an unpredictable personality beside a large Sottsass glass vase.
Like numbers, today's objects are indestructible; unless carelessly dropped, a glass will still be there waiting for us in 3,000 years and we may even be able to drink from it without washing it.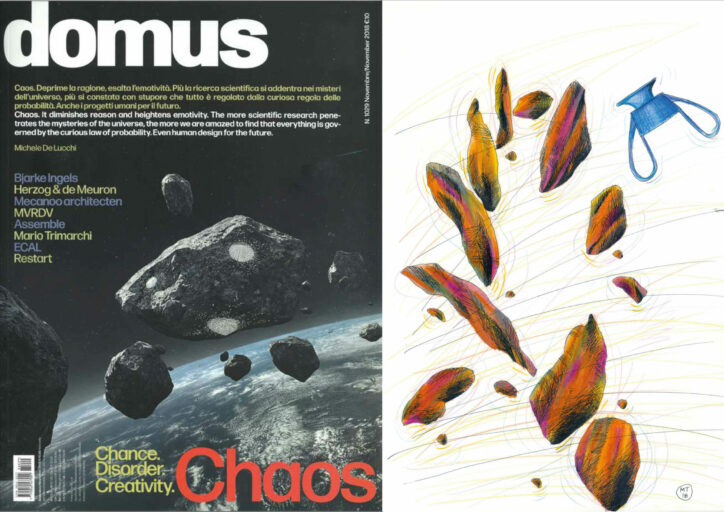 @ Domus magazine, November 2018
For the first time in human history,
the houses of the rich contain few objects than those of the poor
It must be terribly demanding to design an object for an extravagantly empty house.
THE LIFE IN THINGS
Every morning, I wonder whether the thing in our houses continue to exist after we go out and close the door. Or are they like electrons, and only exist when someone looks at them? According to quantum mechanics, the only way to measure the position or motion of a particle is to help it interact. Indeed, we know more about the quantum leaps of electron movement today than we do about how our objects behave when left alone.
From the customary macro viewpoint, there seems to be an abyss between a coffeepot and me but we are the same on the subatomic scale: made of constantly moving elementary particles, of which we will never – as we are told by the uncertainty principle – establish the exact position and quantity of motion at a specific moment, a probability ensemble based on the invisible quasi – nothing. In Copenhagen, Michael Frayn's drama on a mysterious Danish encounter between Bohr and Heisenberg, the latter ended with the memorable words: "that final core of uncertainty at the heart of things".
In the face of this revelation, the design approach ought to take a deep breath.Living is tiring: it is demanding and disorganized. Living would be easier if we surrounded ourself with just a few objects for our entire lifetimes. Ten objects at the most via which to grasp the mystery of beauty. Just like starting from ten numbers ranging from zero to nine, we could, with some phenomenal operations, understand the harmony of the universe. The ultimate
purpose of maths and design is to accompany us gently towards wonder.
Post Scriptum: perhaps extra-terrestrials will come one day after we are extinct. They are bond to understand the level of civilization achieved by our maths but I do not know how much they will understand about us just by looking at the objects in our houses.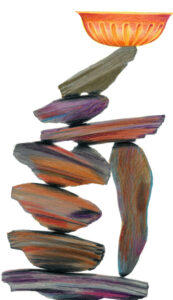 This text has been published on DOMUS 1029 – November 2018
STACKING EXERCISES – MT Drawing – Pen and color pencils on paper, 2018
UP AND UP – MT Drawing – Ink on paper, 2018